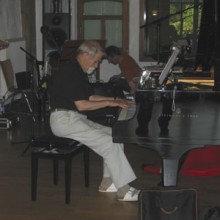 release date:
September 18, 2002
share:
Trio Frans Elsen-Axel Hagen-Rob Langereis 'Live'
Frans Elsen-Rob Langereis-Axel Hagen 'Live'

In 1995 I was lucky to have a weekly gig with two of my favorite musicians in The Hague in "The Regentenkamer".
The musicians were Frans Elsen on piano and Rob Langereis on bass, two great dutch Jazz musicians and former teachers of mine, to whom I have to be very thankful for everything they taught me and being able to play with them and become friends with.
Frans recorded our music a couple of times and gave me years later some tapes to listen to and pick some good takes.
You can listen to a collection of the music here and although it is not perfect in any aspect, it is a very nice memory and one can hear Robbie's great beat and Frans' wonderful piano playing. This has not been released on CD.