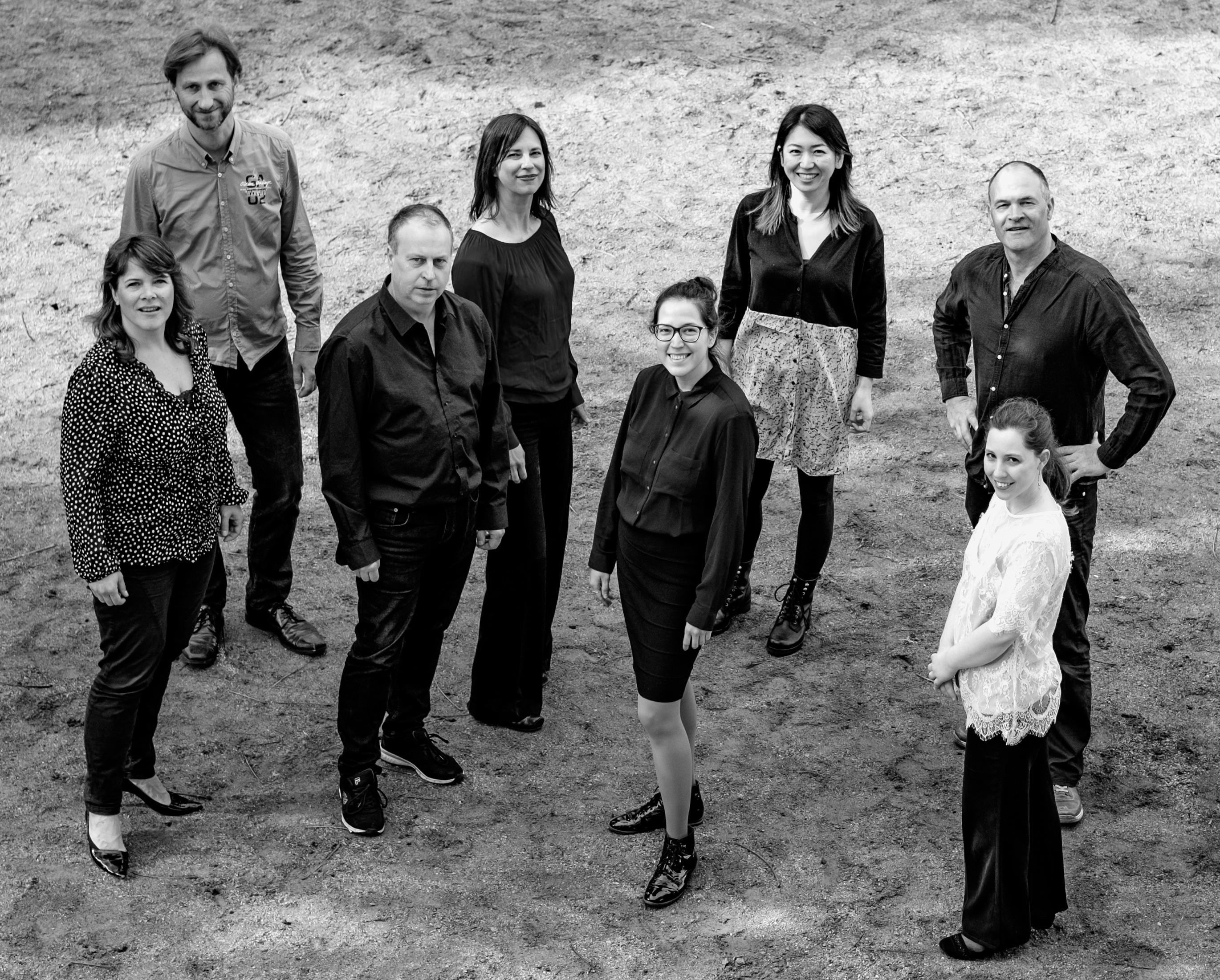 Sanna van Vliet – Vocals          Axel Hagen – Guitar/Arrangements           Dietmar Fuhr – Bass          Dominik Wimmer – Drums/Percussion         Sara Lopez – Violin          Katharina Wimmer – Violin    Nanako Honsalek – Viola         Laura Tavernier – Cello
Songs and Bows is a group of fine musicians under the musical leadership of Axel Hagen. They present a special selection of beautiful compositions from the  "Great American Songbook." Songs that endured the test of time and can still fascinate and enchant us through their melodic inventiveness and harmonic wealth. Combined with intelligent and witty lyrics, this body of work is surely a highlight in modern popular music, from the early 20th century on until today.
The songs from the "Great American Songbook", sometimes called standards, have always been one of the backbones of Jazz music; inviting jazz musicians to use their interesting structures, clear harmonic formulas' and beautiful melodies as a foundation for their improvisational endeavors and virtuosic adventures.
Exactly this duality, one the one side the heritage of harmony and form borrowed from the tradition of western classical music, presented by the string-quartet, and on the other side the improvisational freedom and complex chromatic ideas of the modern jazz musician, presented by the jazz-quartet around brilliant vocalist Sanna van Vliet, are combined in this group through the arrangements of Axel Hagen into a colorful, fascinating and entertaining kaleidoscope of sounds, moods and rhythms. Axel incorporated the strings into the musical whole in a way that they are no mere "sweet" background (although he does not fear this), but form an integral part in carrying the music, introducing and supporting the melodies and improvisations. It seems sometimes as if they are able to spontaneously accompany the soloists like an improvising, accompanying jazz musician would do.
The musicians know each other since many years and their friendship, which is another motivation for this project, shines through in the deep respect for each other and the blind mutual understanding, which only years of continuous work (in many different combinations) can provide. This is reflected in the highly appealing, overall sound of the group: warm, harmonious chords and contrapuntal interplay of the strings with on top the powerful expressive voice of virtuoso improviser Sanna van Vliet and the intelligent guitar playing of Axel Hagen. The rhythm section formed by Dominik Wimmer's sensitive and musical drumming and hard swinging Dietmar Fuhr's masterful bass playing provide the pillars on which the group leans.
Through the many years of playing music on the highest level in orchestras and small groups, the musicians know how to "play an arrangement" which is an art by itself and can only be discovered through the many years of experience, sensitive musical consciousness and dedication to beauty. (By the way the string players are all members of the "Staatsorchester Rheinische Philharmonie" in Koblenz, Germany).
The group is very happy to share their views on the interpretation of the art of playing great American popular songs from the Golden Age with audiences around the world.
"Songs and Bows" features compositions by these composers: Jerome Kern, Gene De Paul, Howard Dietz, Arthur Schwartz, Cole Porter, Hoagy Carmichael, Burton Lane, Sammy Cahn, Jimmy van Heusen, Gordon Jenkins, Jule Stine, Willard Robison, Vernon Duke, Bill Evans, Bernice Petkere, George Gershwin, Victor Young
All arrangements by Axel Hagen